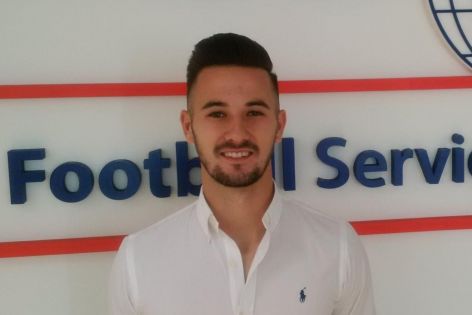 Vestenický scores, Špalek with assist
Autor: FSA, 13.09.2018
FC Nitra striker helps Slovak U21 team turn the score in EURO qualifier. Brescia´s Špalek makes the assist on game-winning goal.
"My aim was to help the team. Coach told me to score and I am happy to make it happen," smiles Vestenický who scored second goal of Slovak team. His side beat Iceland tightly 3-2, scoring the determining goal in injury time.
"Thanks to our victory in Iceland, our chances for preliminary are still alive. We keep on fighting," added ´Vesťo´ ahead of remaining games against Estonia and Ireland.
Tomáš, loaned by FC Nitra from his mature side Cracovia in Poland, is doing good job this season. He scored 4 goals in Fortuna liga, what makes him one of top goalscorers in running campaign.
Nikolas Špalek was the one who assisted on ridiculous game-winning goal, which was scored by goalkeeper. "We are so happy, can not find words for what has happened. This is great victory and I am happy to help my team win," says Špalek.

Autorské práva Football Service Agency (F.S.A., s.r.o., Mostná 60, 949 01 Nitra, IČO: 36 546 291). Všetky práva vyhradené. Akékoľvek použitie častí textu a citácií v inom ako uvedenom kontexte, ich rozmnožovanie a šírenie bez predchádzajúceho písomného súhlasu F.S.A., s.r.o. je zakázané.
Prev
Next

Šivák in All-stars
MFK Zemplín Michalovce striker Nikolas Šivák was picked to All-stars...
Awards for Stoch, Hroššo, Križan and Ewerton
Czech and Slovak league has revealed their best XI of the season.
Man of the Prague derby
Miňo was picked as the best player in 288th edition of Slavia -...
Moravčík to join FSA staff
Former Czechoslovak and Slovak international Ľubomír Moravčík and national team´s...

Forbes: Stoch and Hološko on high
Miroslav Stoch is the absolute top of Slovak celebrities in social media...

Lalkovič´s fine debut
This was Milan´s first goal celebration in Saddlers´ kit.
Latest video
Filip Balaj - Headers 2018/2019