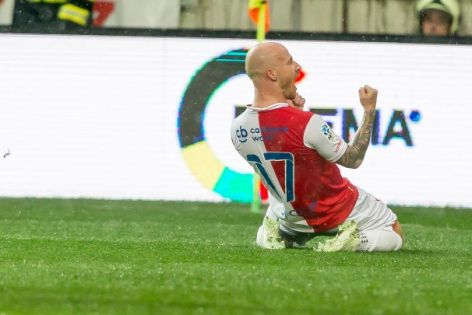 Miňo´s great start VIDEO
Autor: FSA, 25.07.2018
Miroslav Stoch scores amazing goal as Slavia Prague beat Olomouc 3-0 in the first game of new campaign.
One could not imagine better start. Miňo played great game in Olomouc and helped his team make three points in Olomouc.
He scored the second goal of his team in his typical way.
"I had enough place to prepare for shooting. The ball has dived little bit, that´s why the keeper did not have much chance to clear it out," says Miroslav about his stunning shot from outside of the box.
"It´s great for our confidence to make such result in a first game. We are ahead of several competitions," added Stoch.
Slavia will face Dynamo Kyiv in 3rd qualifying round of Champions League. "I think the result is open. For sure we have chance to pass through Dynamo, but we must do our 100%. We have the quality. Of course, Dynamo is strong club with huge experience in UEFA competitions, but the first game is in our Eden Aréna. We can make the first step in early August," says Miňo.



Autorské práva Football Service Agency (F.S.A., s.r.o., Mostná 60, 949 01 Nitra, IČO: 36 546 291). Všetky práva vyhradené. Akékoľvek použitie častí textu a citácií v inom ako uvedenom kontexte, ich rozmnožovanie a šírenie bez predchádzajúceho písomného súhlasu F.S.A., s.r.o. je zakázané.
Prev
Next
Man of the Prague derby
Miňo was picked as the best player in 288th edition of Slavia -...
Moravčík to join FSA staff
Former Czechoslovak and Slovak international Ľubomír Moravčík and national team´s...

Forbes: Stoch and Hološko on high
Miroslav Stoch is the absolute top of Slovak celebrities in social media...

Lalkovič´s fine debut
This was Milan´s first goal celebration in Saddlers´ kit.
Stoch´s major triumph
Miroslav Stoch got the most votes in FIFA Puskás Award and finished ahead of some of the...
Agency devote for charity
Four players under procurement of FSA have donated the highest amount of 18,000€ for...
Latest video
Miroslav Stoch - Goals against Dukla Prague and Slovan Liberec