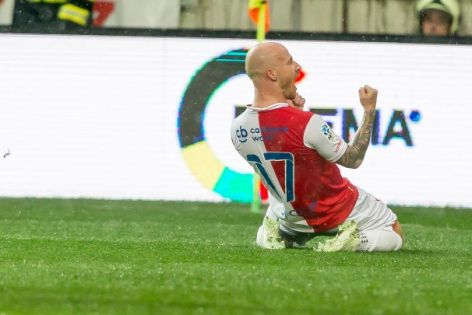 Great Stoch scores two
14.04.2018
Miňo managed Slavia´s turnover in Fridays game against Karviná (3-2), scoring two and adding assist.
´Stoch entertains our league´, ´Unbelievable performance of Slovak player´ or ´Stoch shines in Eden.´ Miroslav Stoch took the headlines of Czech newspaper following his great performance against Karviná (3-2) on Friday. Miňo was the one who took the destiny of the game into his hands and gave his team chance to win one-could-say lost game.
"My thanks go to teammates, who helped me score. Before the first one, there was perfect assist from Kubo Hromada and I chipped the ball over the goalkeeper. Second goal was my, let´s say typical from the past, a shot from outside of the box. I am so happy for this goal, because I was trying so hard to make it happen, but here in Slavia I always missed or the goalkeeper made a great save. Thanks god it curled into the net," says happy Miroslav, who was the absolute man of the match.

Autorské práva Football Service Agency (F.S.A., s.r.o., Mostná 60, 949 01 Nitra, IČO: 36 546 291). Všetky práva vyhradené. Akékoľvek použitie častí textu a citácií v inom ako uvedenom kontexte, ich rozmnožovanie a šírenie bez predchádzajúceho písomného súhlasu F.S.A., s.r.o. je zakázané.
Prev
Next

Šivák in All-stars
MFK Zemplín Michalovce striker Nikolas Šivák was picked to All-stars...
Awards for Stoch, Hroššo, Križan and Ewerton
Czech and Slovak league has revealed their best XI of the season.
Man of the Prague derby
Miňo was picked as the best player in 288th edition of Slavia -...
Moravčík to join FSA staff
Former Czechoslovak and Slovak international Ľubomír Moravčík and national team´s...

Forbes: Stoch and Hološko on high
Miroslav Stoch is the absolute top of Slovak celebrities in social media...

Lalkovič´s fine debut
This was Milan´s first goal celebration in Saddlers´ kit.
Latest video
Miroslav Stoch - Goals against Dukla Prague and Slovan Liberec