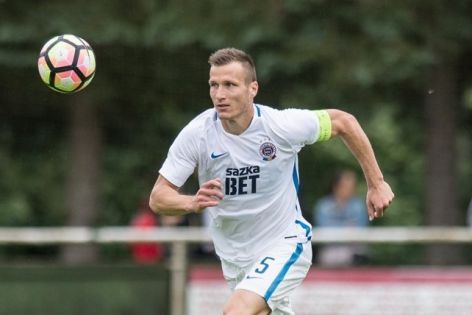 Štetina in action
Autor: FSA, 13.07.2017
Sparta Prague´s summer signing was wearing captain armband in his first game for Czech giants.
Sparta Prague is about to leave their Austrian pre-season camp, where they played couple of friendlies with Dynamo Kyiv (1-4), German Ingolstadt (2-2) and have one remaining against English traditional side Blackburn Rovers.
"International matches are always good experience. First weeks of the pre-season were not easy, but now we focus on getting into the right shape. New season is coming and we want be prepared very well," says Štetina, who will remember his first non-competitive game for Sparta against Karlovy Vary (6-0).
"Of course. Not only because of the result, but it was my debut for Sparta and teammates picked me to be their captain. It will be expensive," added Štetina, smiling.

Pictured by AC Sparta official website

Autorské práva Football Service Agency (F.S.A., s.r.o., Mostná 60, 949 01 Nitra, IČO: 36 546 291). Všetky práva vyhradené. Akékoľvek použitie častí textu a citácií v inom ako uvedenom kontexte, ich rozmnožovanie a šírenie bez predchádzajúceho písomného súhlasu F.S.A., s.r.o. je zakázané.